If today wasn't exciting enough with the Liebster Award, Heather at
Mommy Only Has 2 Hands!
, let me know that I was chosen to be the spotlight blog for this Wednesday's Hump Day Hop. For those of you that don't know, a blog hop is a link to your blog on a host's blog where you can visit other blogs, follow blogs you like, and gain followers.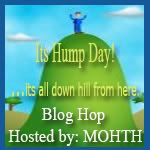 To everyone that is visiting from this Wednesday's Hump Day Hop, thank you for stopping by! And if you can, leave me a comment that let me know you did so I can stop by your blog and return the favor!
Thank you again Heather!